Advanced TMS Therapy
Safe Treatment For Depression
Hours of Operation
MON – FRI
9AM – 9PM
Closed Weekends
Location
1510 W. Canal Ct. Ste 2500
Littleton, CO 80120
What Is TMS Therapy
Transcranial Magnetic Stimulation
A New Outlook Recovery Services uses NeuroStar transcranial magnetic stimulation (TMS) to target key areas of the brain. Areas that are under-active in people with depression.  It is not electroconvulsive therapy.
While the exact cause of depression is still not known. The leading scientific theory is that it is due to by an imbalance of the brain's neurotransmitters. 
Neurotransmitters are the chemical messengers that send signals between brain cells.
During a NeuroStar treatment session, a magnet, similar to those in a magnetic resonance imaging (MRI) machine, is used to stimulate nerve cells. Stimulate areas of the brain thought to control mood. 
NeuroStar Advanced Therapy is an innovative, FDA-cleared therapy. It helps people who struggle with MDD even after taking antidepressant medication.
TMS therapy activates the natural function of the brain. It uses a non-invasive magnetic field, and is not electroconvulsive therapy. These magnetic pulses have a positive effect on the brain. This as a result makes long-term remission possible.
Because NeuroStar is a non-drug treatment, people don't experience side effects. Side effects like those associated with antidepressant medications.
Precisely targeted NeuroStar Advanced Therapy makes long-term remission possible—which is why it's the #1 choice of doctors.
Proven & Safe Treatment
Serving Colorado Since 2010
#1 Choice of Doctors
Safe and FDA Approved
No Medications
About NeuroStar
And how we can help you!
Ask Yourself These Questions:
If you answer "yes" with two or more of these questions, NeuroStar Advanced Therapy (TMS) may be right for you.
Have depression symptoms interfered with my daily life?
Am I not satisfied with the results I get from depression medication?
Do I worry about the side effects from my depression medications?
I have switched medications for depression due to side effects?
I am interested in a proven, non-drug therapy for depression?
Treatment with NeuroStar Therapy is easy:
Therapy sessions are conducted in your doctor's office.
You can return to normal activities right away.
You are awake during treatment.
There are no negative effects on memory or sleep.
It's covered by most health insurance plans.
With more than one million treatments performed, this approach is bringing new hope to people every day.
We've been featured
in some great places
NeuroStar University
NeuroStar University's goal is to help train more practices across the country to help patients.  Open to attendees from NeuroStar practices at the classes will allow them to learn techniques to efficiently use the NeuroStar system and discuss ways to reach and educate more patients on a non-drug option to treat MDD.  We have attended the University three times since it was started.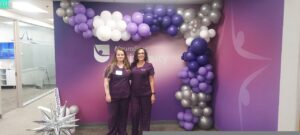 Real People
With real stories, just like yours.
Talk With Us...
Your healing begins here...
You've come to the right place! Our practices covers many services available to help you and/or your loved ones.
Please feel free to complete our short form or
Call us the at the                     
TMS Therapy Office
Serving Littleton/South Park, Highlands Ranch, Lakewood, Castle Rock, Lone Tree, Centennial, Parker and Denver.