Cognitive Behavioral Therapy
The Latest In Evidenced-Based Therapies
Hours of Operation
MON – FRI
9AM – 9PM
Closed Weekends
Location
1510 W. Canal Ct. Ste 2500
Littleton, CO 80120
What Is CBT
How Cognitive Behavioral Therapy Can Help You
Cognitive Behavioral Therapy (CBT) is a form of psychotherapy that focuses on how our thoughts and feelings play a fundamental role in our behavior. Negative thoughts can contribute to and intensify emotional difficulties, depression, and anxiety. Consequently, such thoughts are often accepted as true, and can negatively influence the individual's mood.
Through the CBT process, patients are taught how to reexamine their thoughts. Then look at evidence from reality that either supports or refutes these thoughts. In addition, they are then able to take a more objective and realistic look. Also look at the thoughts that are contributing to their feelings of anxiety and depression. This teaches them that while they can't control everything that is going on. As a result they can take control of how they interpret and deal with those things in their environment.
At A New Outlook Recovery Services, we accomplish this by helping our patients first identify the problematic beliefs. We demonstrate how thoughts, feelings, and situations can contribute to maladaptive behaviors. This analysis can ultimately lead to self-discovery and insights to drive the treatment process.
Then, we focus on the actual behaviors. Behaviors that are contributing to the problem. They learn and practice new skills that can then are put in to use in real-world situations. We do not tell our patients what their goals "should" be, or what they "should" tolerate. We instead show them how to think and behave in ways to obtain what they want.
Improving Mental Health.
Serving Colorado Since 2010
Effective
Lasting Results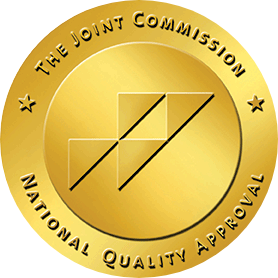 Joint Commission Gold Seal of Approval for Behavioral Healthcare Accreditation
Helpful
Characteristics of Cognitive Behavioral Therapy:
---
CBT typically sees relatively rapid results. On average, most patients have fantastic results after only 16 sessions, while other forms of therapy can sometimes take years. CBT's highly instructive nature and use of "homework assignments" enables the faster recovery process.
Patients are made aware at the very beginning of the therapy process that there will be a point when the formal therapy will end (decided upon by the therapist and patient), so that it's never an open-ended process.
Cognitive Behavioral Therapy can be an effective treatment choice for a range of psychological issues, including the following:
Anxiety
Phobias
Depression
Addictions
Eating disorders
Panic attacks
Anger
If you or a loved one are dealing with any of these disorders, please contact us today to learn how we can help you.
A New Outlook Recovery Services is here for your needs.
Talk With Us...
Your healing begins here...
You've come to the right place! Our practices covers many services available to help you and/or your loved ones.
Please feel free to complete our short form or
Serving Littleton/South Park, Highlands Ranch, Lakewood, Castle Rock, Lone Tree, Centennial, Parker and Denver.