Acceptance and Commitment Therapy
Compassionate Therapy That Heals
Hours of Operation
MON – FRI
9AM – 9PM
Closed Weekends
Location
1510 W. Canal Ct. Ste 2500
Littleton, CO 80120
The Big Picture
What Really Matters
The 6 core therapeutic processes:
---
Acceptance and Commitment Therapy (ACT) differs from traditional western therapy treatments in that there is no assumption that being "healthy" is normal. On the contrary, the premise behind ACT is that your normal everyday thoughts and beliefs can become destructive.
Specifically, it theorizes that human language and cognition is at the root of human suffering because it is often the foundation for negative thoughts and emotions (such as self-criticism, obsession, deception, prejudice, and fear).
ACT theorizes that that trying to change difficult thoughts and feelings as a means of coping can be counterproductive, and instead, acceptance, mindfulness, and committed action (among others) may be a more effective alternative.
The goal of ACT is not to entirely rid you of your symptoms, but rather accept that there will always be pain and suffering in everyone's life, and that you should detach from it and take action based on your values. You will be encouraged to enjoy a meaningful life, and ultimately, it is expected that your symptoms will fade as a by-product of the ACT process.
Effective & Helpful Therapy
Serving Colorado Since 2010
Effective
Mindfull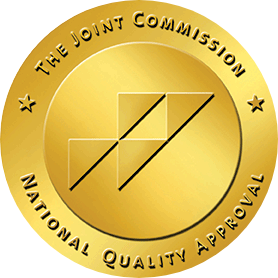 Joint Commission Gold Seal of Approval for Behavioral Healthcare Accreditation
Very Helpful
The Acceptance and Commitment Therapy Model:
---
At A New Outlook Recovery Services, the ACT process usually involves active experiential exercises, as well as behavioral interventions (learning about what you value in life). Also it includes mindfulness skills training (awareness of the present).
We apply the six core ACT principles, which include:
1. Cognitive Defusion: Separating yourself from unpleasant internal experiences. You will always have these experiences, but ACT is designed to reduce the influence that they have on you.
2. Acceptance: Allowing your unpleasant internal experiences to happen without trying to control them. This makes them seem less threatening and reduces their impact on your life.
3. Staying in the Present: You will practice engaging in the present moment instead of becoming lost in your own thoughts.
4. The Observing Self: You will learn to observe yourself thinking, thus putting you in control of your thoughts.
5. Values: You will identify what you stand for, what is important to you and what has meaning in your life.
6. Committed Action: You will commit yourself to action. Action that is in line with your values, even if it causes you some distress. You will set goals based on your values and take steps to achieve them.
ACT is known to help treat stress, general anxiety, social anxiety disorder, in addition to depression, obsessive-compulsive disorder. It also treats psychosis, PTSD, substance abuse, and more. It is most useful with people who prefer meditation. Meditative practices to examining and changing their thought processes.
Contact us today to learn if ACT may help you or your loved one. A New Outlook Recovery Services is here for your needs.
Talk With Us...
Your healing begins here...
You've come to the right place! Our practices covers many services available to help you and/or your loved ones.
Please feel free to complete our short form or
Serving Littleton/South Park, Highlands Ranch, Lakewood, Castle Rock, Lone Tree, Centennial, Parker and Denver.